Holiday Offers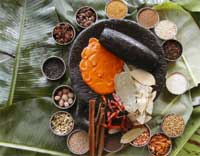 As the host introduces Maharashtrian cuisine with its origins and regional variations, the focus is on an ingredients table with a selection of spices, cereals, fats, pulses, vegetables, nuts, fruits and accompaniments that characterize Maharashtrian food. For example kokum, dagadphool, sabudana, sugarcane, coconut, peanuts, etc. Nutritional benefits, techniques and the significance of combining ingredients are also highlighted.
The demonstration covers the preparation of a complete meal including how to serve and eat. For authenticity, we use traditional cooking implements like the soop, pata, coconut scraper, mortar and pestle, sigdi, etc while suggesting practical modern alternatives.
Guests are invited to participate in different parts of the cooking process to make it more interactive and fun.
Menus change according to the season and are chosen to display regional variations and flavours. A sample summer menu might include: masala taak, sabudana wada with chutney, gavran kombdi curry, farasbean batatachi bhaji, aamti, bhakri, prawn pulao and godi shev.
After tasting the meal prepared, each participant receives printed recipes and a gift pack of house spice blends.